A digital presence
that pops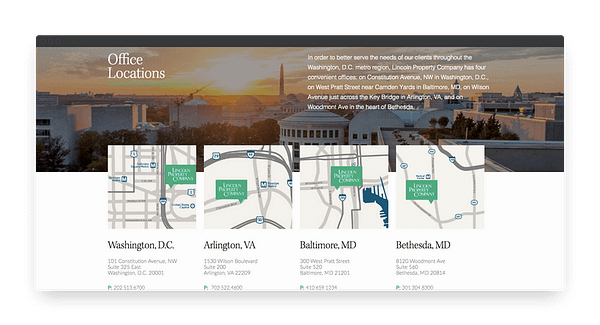 Brochures that tell a story
Outdated design
Lincoln's flyers didn't help to win business, they lacked design strategy and depth.
Lack of focus
Lincoln's flyers didn't communicate a clear message to potential tenants and brokers.
Fresh design
Developed a fresh, focused redesign complete with several turnkey templates for brokers to choose from.
Map design
In commercial real estate, location is everything and that wasn't being communicated professionally, with the use of Mapquest, so I created a fresh design with Google Maps.
When I was engaged to create a marketing strategy for Lincoln, there was no e-mail marketing strategy.
The leasing team sent e-mails to brokers and potential tenants on Outlook, with no way of tracking KPIs.
Lincoln became the first real estate company to use MailChimp, and I developed custom templates for the company to reach potential clients.